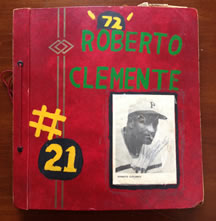 A Story about Roberto Clemente and the Kindness of Pittsburghers
Like a lot of young boys growing up in Pittsburgh in the 1960s, Robert Clemente was my favorite baseball player. (However, despite Clemente's "beloved" status these days, it took some courage back then to declare this fact. But, that's another story.) Hero worshiping tends to stick with you. Heck, I've long named the hard drives of my computers Roberto, in honor of Clemente. I was a freshman at South High School when Clemente died on New Year's Eve in 1972, when the plane he was on carrying relief supplies to the people devastated by the earthquake in Nicaragua crashed shortly after take-off. I had turned 14 a little over a month before and his death tore me apart. But, this is not a story about Clemente, nor of me. Instead, it's about another person, a total stranger, who did a very kind thing for me during the summer of 1972, an unusually nice deed that brought me as close to Clemente as I ever had been or ever would be. When times are tough and I need to cheer myself up, just a quick remembrance of this kind act usually does the trick.
You have to understand that Roberto Clemente had been my favorite ball player from the very beginning. I can trace it to when my dad took me to my first Pittsburgh Pirate baseball game at old Forbes Field when I was about 8 years old. Forbes Field had been located in a part of the city called Oakland, just a short walk from the University of Pittsburgh. I'm not sure why I latched on to Clemente. Around 1965 or 1966, Clemente had established himself as one of the best players in the National League. So, it's most likely my father or my older brothers had been prepping me on who to pay attention to on that day. I remember watching the game from the cheap seats on the first base side of the field and seeing Clemente make a catch in the outfield with his trademark basket catch. It was distinctive, he had style, and I was imprinted.
After they tore Forbes Field down, the University of Pittsburgh constructed a building on the very spot. (The building was originally called Forbes Quadrangle, but is now known as Wesley W. Posvar Hall.) They installed home plate in the main hallway, supposedly just where it would have been if Forbes Field had been left standing. (I've read recently that it's close, but not exactly at this spot, because apparently it would be inside one of the bathrooms.) Part of the outfield wall still remains along with a brick inlay in the sidewalk showing part of the fence's perimeter with an embedded plaque showing the spot where Bill Mazeroski's seventh game home run crossed over the wall and won the World Series over the Yankees in 1960. Interestingly, the Forbes Quad, as it was called then, houses the College of Education and being an education major I attended many a class in this building as an undergraduate in the late 1970s. I remember sitting in classes in various rooms, always trying to imagine where I would be in old Forbes Field.
At the time this story takes place in 1972, the Pirates were playing in the newly constructed Three Rivers Stadium, just across the Allegheny River from downtown on the North Side. In 1972, Clemente was a hot commodity. The year before, he was the Most Valuable Player of the World Series in which the Pirates beat the Baltimore Orioles. And this year, Clemente was on the verge of reaching 3000 hits, one of the most coveted hitting marks in all of baseball. Besides the typical bat days and hat days, one of the other promotions the Pirates had been having that year was Autograph Day, at which two of the team's players were available prior to the start of the game to sign autographs. Naturally, I waited and looked forward anxiously to when Clemente would be featured.
I knew Three Rivers Stadium well for a kid of 14. Going to ball games first with my friends, then alone, had been one of the first truly independent things I was allowed to do by my parents. I would catch the 54A Arlington Heights bus across the street from St. Henry's Church on Arlington Avenue, atop the slopes of Pittsburgh's southside and ride it to downtown Pittsburgh, getting off at the corner of Smithfield Street and the Boulevard of the Allies. It was a long walk from there to Three Rivers, about 2 miles through downtown and Point State Park where the three rivers actually meet, and across the Fort Duquesne Bridge to the stadium. But, it was my route and I knew it well. I planned the day well to make sure I arrived with plenty of time prior to the game to get my autograph and perhaps, I thought naively to myself, even chatting a little with Clemente.
But, when I arrived at the stadium, I realized I had miscalculated very badly. Clemente had yet to arrive, but there were already two very long lines formed by the time I got there. Although I couldn't see it from where I stood, Clemente's arrival was loudly signaled by the cheers from the crowd. As time wore on and game time approached, the orderly lines just disintegrated into one large mass of people. The crowd became very dense and I remember being pushed to and fro by it. Slowly, I squeezed and snaked my way forward. I remember catching a glimpse of Clemente as he stood up but then he quickly disappeared from behind the table, obviously leaving to get to the field for the start of the game. Disappointment overcame me as I realized what was happening. But, I saw one of the ushers standing by the table where Clemente had been seated. He was holding a stack of autographed photos and began to pass them out to the crowd. Not being a tall 14 year old, all I could do was push forward with my hand raised in the air, trying to snag one of them. I remember getting almost to the table, when I saw the usher pass out the last of the photos. One of them was within my reach. My arm was stretched as high up as it would go with my fingers just inches from the photo, when all of a sudden another hand of a much taller person reached over mine and grabbed the photo first. Just as I saw my last hope slip away an amazing and beautiful thing happened. This stranger's hand very purposefully shuffled the picture from the usher's hand into mine! I never even saw this person's face.
To this day, I wonder why this person did this. One might think that the person wasn't a baseball fan and didn't really care about getting one of the pictures. This obviously doesn't make sense because any one who wasn't a baseball fan, even one who might have happened to be at the ball park that day, would have stayed far away from this unruly crowd. Again, Clemente was the talk of the town and indeed, most of the baseball world, at that time. Clearly the autographed photo would have been seen as valuable to even the casual baseball fan. There was certainly no guilt to be had for an adult taking full advantage of the opportunity to seize the photo and retreat with it back to family and friends, showing it off even, perhaps giving it to some other teen – a son or daughter, or a nephew or niece. But, for some reason, this person decided I was the one who ought to have it.
The only reasonable explanation I can come up with is the simplest — the person was just being kind. I imagine that this person had seen me, perhaps even had watched me for several minutes during all of the commotion and became struck with my intensity and determination. Perhaps this person also saw the fog of dismay and disappointment coming over me as I myself was realizing that I was about to miss my chance. It's easy for me to imagine that this adult just decided that this kid somehow deserved the photo more than he.
The autographed photo became, and continues to be, my most prized possession, a family heirloom. Later that day I carefully covered it in Saran Wrap — thinking that was the ultimate protection — and glued to the cover of my Roberto Clemente scrap book begun earlier that year. Years later an acquaintance told me I almost certainly reduced the value of the photo by doing this, an observation I found somewhat obscene since it hinted at the possibility that I may one day want to sell it.
Clemente's autograph on that photo is the closest I had ever come to meeting my idol. But, when I look at it, I am usually reminded not of Roberto, but of the simple act of kindness by a total stranger. This simple act also represents well, I think, of the sort of people who live in the city of Pittsburgh.
Lloyd Rieber, January 6, 2013, Hull, Georgia